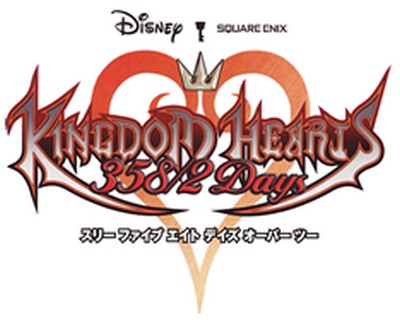 Just some background info folks!
Kingdom Hearts 358/2 Days
(

キングダム ハーツ 358/2 Days

,

Kingudamu Hātsu Surī Faibu Eito Deizu ōbā Tsū

, pronounced "Kingdom Hearts Three-Five-Eight Days over Two")
is an upcoming
action role-playing game
developed
and
published
by
Square Enix
for the
Nintendo DS
with assistance from
h.a.n.d.
It will be a new installment in the best-selling
Kingdom Hearts
series. The story is a
interquel
taking place between
Kingdom Hearts
and
Kingdom Hearts II
. The game centers on the daily life of the main character
Roxas
, exploring the time from his creation during the first game,
Kingdom Hearts
, and leading directly into
Kingdom Hearts II
. It is planned to feature
3D graphics
, and single and multiplayer modes of play. The game was announced at the 2007
Tokyo Game Show
to be released in Japan; a North American release was later confirmed.
Kingdom Hearts 358/2 Days
will have a special edition of the DSi when it launches.
Cooperative multiplayer was one feature on display at the 2007
Tokyo Game Show
demonstrating that players can work together, in addition to the traditional use of
AI
controlled partners.
This is the first
Kingdom Hearts
game to feature multiplayer. The multiplayer gameplay is separate from the single player story and will be mission-based, which include cooperative and competitive player battles.
It will allow up to four players to play as one of the thirteen members of Organization XIII, with each member having different weapons and skills.
358/2 Days
'
multiplayer will also feature a chat system for communication between players, but will differ from
PictoChat
in that everyone will draw on the same screen.